Marines And Marine Families Welcomed Honoring America's Marines
Come celebrate the 4th of July!
Marine Monument at Park Semper Fi, San Clemente, CA
Monday, July 4, 2016 at 5:00 p.m.
Watch the Spectacular Fireworks!!
Bring Your Favorite Potluck. Tickets Required. No Charge.
For information, call (949) 498-4958 or heritage@marinemonument.com
---
Donations for Deployed Marines
2nd Battalion 4th Marines
San Clemente adopted Marine Corps Unit

Care Package Ideas
Baby Wipes
Hygiene items (toothpaste, shave cream, lip balm, disposable razors)
Snacks (beef jerky, candy, pringles, nuts, cookies, combos, cheez-it, trail mix)
Powdered coffee creamer
Deoderant
Dominos and playing cards
Blank stationary
Basic board games
Individual drink mix
Protein bars or cookies
Tapatio or Cholula hot sauce
AA and AAA batteries
Sunscreen
Drop Off Locations
Community Center
110. N. Seville, SC
DeNaults' TrueValue Hardware
535 Ave. De La Estrella, SC
City Hall (in front of elevator lobby)
910 Calle Negocio, SC
SC Chamber of Commerce
1231 Puerto Del Sol, 200, SC
Hermosa Sports Park (Aquatic Center)
987 Vista Hermosa, SC
24 Hour Fitness
110 Ave. La Pata, SC
Coastal Postal
Albertsons Center by SCHS
806 Ave. Pico, SC
---
~ A Tribute To The Past - A Legacy For The Future ~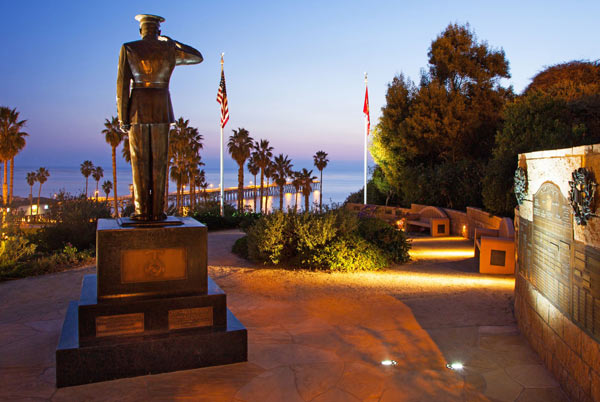 The United States Marine Corps has been a valuable neighbor of San Clemente since the early 1940's when the Marine Base was established and dedicated by President Franklin D. Roosevelt. This community has seen Marines pass through our town during World War II, the Korean War, Vietnam War, and the Gulf War. They have been our neighbors, sons, daughters, husbands, wives and community leaders. As a community, we have honored them with barbecues and parades, and now we honor them a permanent reminder of our respect and appreciation for them.
The Board of The Heritage of San Clemente Foundation, a non-profit organization 501(c)3, now honors them in a manner that is a permanent reminder that their heroism is an important part of San Clemente's heritage. Therefore we launched a private fund raising drive to erect a Marine Corps Monument in San Clemente. The community was asked what type of statue would be appropriate and they have chosen the Dress Blue Uniform as the one that is most symbolic of The United States Marine Corps. It is a life-sized bronze statue placed in the newly created Park Semper Fi located in the Pier Bowl where residents and visitors alike can view it. The Monument was dedicated on Saturday, November 12, 2005 at noon in commemoration with the Marine Corps 230th Birthday.
The Monument will, for all time, attest to the Corp's honor, courage and commitment in service to our nation. This is a once-in-a-lifetime opportunity for us to come together to honor the Marines, to confirm our heritage, to share with our community, and with each other, and to leave a lasting and glorious legacy for the future.


G. Wayne Eggleston, Executive Director
The Heritage of San Clemente Foundation
Former City Council Member & Mayor